April - Space Coaster, Wonder Land, Japan
A 6 year old boy was thrown from the ride, after his seatbelt came undone, suffering a fractured rib. Source.
May - Rotor, Parque de Attractiones, Madrid, Spain
A worker from Huss was crushed to death between a beam and a counterweight whilst carrying out maintenance work at the top of the ride's tower. Source.
May - Frisbee, Travelling Fair, Toowoomba, Australia
A 5 year old boy was thrown 10m from the ride at a school fete, suffering serious head injuries. Source.
May - Wild Bill's Runaway Train, Adventure Wonderland, UK
At least two children sustained head injuries after the emergency brakes triggered, bringing the ride to a sudden hault. Source.
June - X-Scream, Travelling Fair, St Neots, UK
10 riders suffered minor injuries, and another a suspected fractured ankle after the ride collapsed. Source.
June - Rameses Revenge, Chessington World of Adventures, UK
The fire service had to cut 39 people free from the ride after it became stuck in mid-air. No injuries were sustained. Source.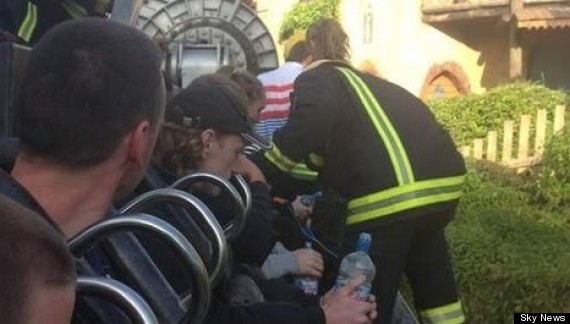 Rescurers free stranded passengers.
June - Crazy Mouse, Red River Ex, Winnipeg, Canada
A 16 year old boy was struck by a ride car, sustaining serious injuries, after entering a restricted area to retrieve his hat. Source.
June - Skyloop, World Joyland, China
11 riders were stuck for 2 hours as the ride got stuck on the lift hill. The riders were rescued by fire crews, and no injuries were sustained. Source.
June - Tranan, Skara Sommarland, Sweden
A car failed to stop at the end of the ride, colliding with a stationary car in the station. Source.
July - Tagada, Travelling Funfair, Doncaster, UK
A woman was thrown from her seat, landing on her head in the middle of the ride mid-cycle. She initially felt fine, but in the days following the incident, was found to have broken her neck. Source.
July - Shoot The Rapids, Cedar Point, Ohio
A boat rolled back down the first list hill and flipped over at the bottom. Seven people were on board, but none suffered major injuries. Source.
July - Texas Giant, Six Flags Over Texas, Texas
A woman was killed as she was ejected from the train mid-ride. Source.


Emergency services at the scene.

August - Big Wheel, Independence Park, Rosario, Argentina
Two girls were killed, and at least seven other people injured when one of the ride's gondolas became detached, falling approximately 30m. Source.

September - Zumur, Oyster Festival, Connecticut
Eighteen people were hurt when a swing ride at the Norwalk Oyster Festival suddenly stopped, slamming riders into each other. Source.
October - Hollywood Rip Ride Rockit, Universal Studios Orlando, Florida
Twelve passengers were stuck near the top of the 150 feet tall vertical lift hill for over two hours when the coaster switched into "safety mode". No one was injured. Source.


Rescurers at top of lift hill prepare to remove stranded passengers.

October - Vortex, State Fair, North Carolina
Five people were injured, two seriously, when a pendulum-swing thrill ride at the North Carolina State Fair jolted back to a start as riders were getting off. Source.

October - Pirates of the Caribbean, Disneyland Paris, France
A five-year old boy was seriously injured when he was crushed by a boat after falling out of the ride. Source.